SkyPro in a few words : 95%
EXCEPTIONAL
Improving your golf game has never been easier than with the SkyPro golf swing analyzer that monitors your club's swing during the hit. It then sends the information to a smart device that delivers useful tips on how to perfect your golf swing. This device is easy to install, easy to use and boasts some of the most advanced features you will find in similar devices. Discover the convenience and fun in using his device for only $143 and develop a better golf swing.
Trust the SkyPro to improve the way you play golf through the many advanced features it boasts. At an affordable price and with some great technologies incorporated, this device can hardly be matched by any other model.User Rating: 2.73 ( 56 votes)
PERFORMANCE – 94%
DATA – 95%
INSTRUCTION – 95%
EASE OF USE – 96%
Performance
It is one of the most accurate devices you could choose. At 3,600 measurements per second, it provides precise calibration thanks to the useful sensors and the continuously updated algorithms that make priority its main goal. It offers ultrafast 3D performance in exploring your swing with 6 degrees of freedom in the rotation while capturing 60 FPS for maximum swing exploration. This adaptive alert system enables it to detect the concerning swing parameters areas and helps you fix them in order to improve the way you play golf. Once it takes all the measurements, it provides visual interactive comparisons so you can analyze your swings and determine what went wrong. When it comes to performance, it is important to understand the fact that this device does not just offer you a feedback, it also helps you determine what to focus on during your game. It has many tools to help you find flaws in your swing. It helps you view your putt or swing from another angle, compare it to a favorite or use the checkpoint system. However, the end results in a great analysis.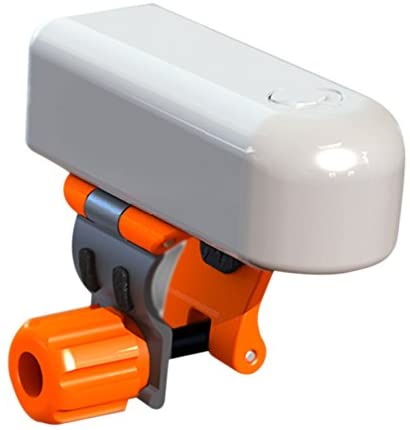 SkyPro Specifications Sheet
Dimensions
1.8" L x 0.7" W
Weight
0.81 Oz.
Sensor Placement
Club
Operating System Compatibility
iOS, Android
Battery Charge Time
2 Hours
Battery Runtime
8 Hours
Captured Data
Club rotation, club head speed, swing plane, swing path, face angle, impact position, tempo
Features and data
With the SkyPro, you will enjoy plenty of useful features designed to make it comfortable and efficient. Each feature enjoys clear instructions of the app on your smartphone as well as written instructions that come in the box. The device provides 3D freedom of view that enables you to watch your swing from a wide angle to get a clear picture of what you are doing wrong. It auto-records your swing and transmits the data to your smartphone via Bluetooth. The data transmitted includes club head speed, club rotation, face angle, swing path, swing plane, tempo, and impact position.
It detects checkpoints meaning it gathers information about your club's position at key points and alerts you when it detects unusual values. Thanks to the Zoom feature, you can have a close-up view of any point in your swing. In case the gadget finds a checkpoint that works, it will provide instant feedback so you can groove a better swing.
The Variable Speed feature allows you to play back your swing in either real-time or slow down so you can analyze it better. The Impact Detection 2.0 lets you use the golf swing analyzer indoors or without a ball so you can practice more even if you are not on a golf course.
Design and compatibility
This oval shaped swing analyzer measures 1.8" long and 0.7" wide and weighs only 23 grams so fitting it into your pocket is not a big deal. Attaching it to the golf club is also a breeze as you only have to point is down towards the club head and screw it onto the club just below the grip. Thanks to the sleeve on the gadget, you won't scratch and damage your precious golf clubs. It comes with a charging case and the USB charging cable.
Most of the user instructions come with the app that you can download on any smartphone or other devices that use Apple iOS 7.0 or greater and Android Jelly Bean 4.1 or greater.
Ease of use
There is nothing tricky about using this swing analyzer that does not come with a cumbersome interface or complicated instructions. All you have to do is turn it on and it will do all the rest without you having to push buttons.
The feedback sent by the swing analyzer is essential in improving your golf game, this is why the SkyPro provides accurate information that is instantly sent back to your smartphone. This way, you will know exactly how you are playing and will be able to correct a bad swing habit. The device features a high-speed wireless link that automatically sends the data to your phone so you won't have to wait.
The SkyPro Skypro is extremely stable. The Anti-Rotational Stability ensures your device stays calibrated and aligned throughout your golf session, so you won't have to change position.
Battery and Warranty
This analyzer works on a built-in lithium-ion battery that can be recharged for one hour to reach 80% of its capacity and 2 hours for 100%. It lasts for up to 8 hours of game on a single recharge thanks to the Intelligent Power Management system that makes good use of its energy. Moreover, the advanced Sleep Mode turns it off automatically in case you no longer use it so battery power will be saved.
This golf gadget can be used in any type of weather because it is been designed to work in extreme outdoor conditions. The 2-year warranty makes sure you will use it in complete peace of mind while the quality and durability it shows make it a great addition to your golf bag.
About the SkyPro App
As we have already mentioned, the sensor of the analyzer communicates with your smart device, giving you the data you need to improve your game over the SkyPro app. But let us take a closer look at this app to understand what makes it so important to your game. Two important elements of this app are the fact that it provides 12 full swing checkpoints and 13 putting checkpoints, thus helping you improve many aspects of your shots to lower your handicap. Also, there are 6 different modes that you can choose from, more precisely the Full Swing mode, the Swing mode, the Groove mode, the Plane mode, the Focus mode, and the Putting mode. Other features of the app include checkpoint alerts, checkpoint info, video tips and drills, and custom alerts.
Final Thoughts
The market of golf gadgets abounds of models that aim to provide users with everything they need to know in terms of improving their golf game. This is one of those golf gadgets that really knows what to do and that is due to the advanced technologies it is based on.It easily attaches to the golf club and the best part is that when you are not using it, it conveniently goes into the practical storage case. The accurate measurements provided, along with the 3D point of view or the ability to record and replay your swing, contribute to a better golf playing technique. All in all, it is a very good swing analyzer with a durable battery and a 2-year warranty that makes it stand out from the other models that feature a shorter warranty. Once you have it by your side, you will see that shooting perfect balls will seem easier.