If you are a professional golfer, you already know how effective putt mats can be for your putting. A quality golf mat will improve your putting confidence on straight putts, allowing you to practice whenever you like. There are various models available on the market, today, so it won't be very difficult to find a quality mat. A putting green for indoor is also a good way to practice on a daily basis or if you do not have access to outside practice putting green. Improvements come with practice.
Usually, good mats are using high-quality synthetic turf that lasts for many years and is easy to maintain. On the other hand, you may also find a few bad imitations of a green surface on some type of foam which reacts nothing like a real green. Therefore, if you are looking to purchase a good mat for putting, you should have a look at the following models and you will surely find one that satisfies your needs.
Putt Mats Reviews
Our goal with putting green reviews is to help you find the more adequate for each situation.
---
StarPro 6ft x 12ft 5-Hole
The StarPro is one of the best mats available in the current market. It measures 6 feet by 12 feet long, so it has enough space, that 4 people can easily practice at the same time and a UV-resistant surface which can be also placed outside because it won't fade. In fact, it provides 8-year warranty for outdoor use and lifetime for indoor use. Additionally, it features 5 holes and each of them has a plug which allows you to practice with between one and five holes at a time. Moreover, it is important to know that it is kidney shaped to maximize putting area. It does not have any folds, ramps, sponges, wood and plastic platforms to trip on and off of. All in all, if you are thinking about improving your game and having a lot of fun with your family and friends on the most realistic and challenging putting practice mat in the world, then you should confidently choose it.
Big Moss Augusta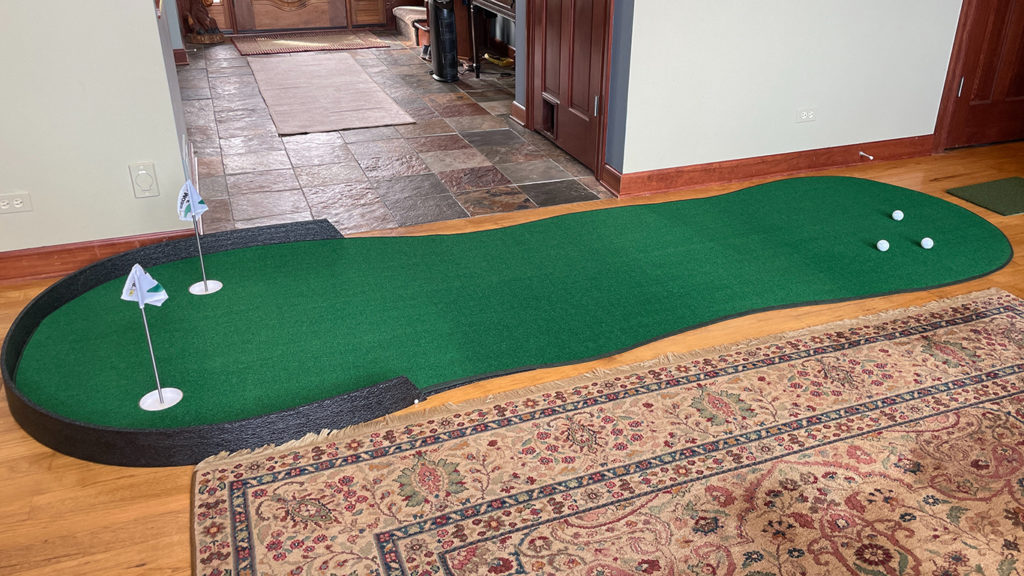 Another incredible mat that you should try is the Augusta. It measures 4 feet wide by 12 feet long, being just perfect for indoor use. It comes with a realistic true roll down grain that is similar to what you have experienced on real courses. Plus, there is less chance of balls rolling off it because it gets wider near the holes.
Additionally, it includes brake snakes that will provide unlimited contours that you can create. Aside from being efficient, it is completely portable and easy to set up. In fact, it can be assembled in a few minutes without tools. Do not waste your time and choose this mat which is able to provide you with everything you need. The Augusta has recently been updated with a second version of the mat.
Putt-A-Bout Grassroots Par Three
The Par Three is a great golf mat that features a high-quality putting surface designed to produce an experience very similar to one on a real course. Additionally, it is important to know that it measures 9 feet long by 3 feet wide and weighs 4 pounds. It is made from polypropylene and urethane foam. The Grassroots also has a small incline designed to help you improve your stroke. Plus, it features some putting cups that are slightly smaller in diameter than other cups, making it the perfect practice mat for golfers.
SKLZ Accelerator Pro
If you are looking for a golf mat that will teach proper acceleration of the putter head through impact, then the SKLZ Pro is the chosen one. It is an interesting mat with graphic marks at certain distances that will indicate the appropriate length of the backswing. Moreover, it features a ball return track that rolls the ball back to you if you sink the put. Additionally, it is important to know that it measures 9 feet by 16.25 inch, being just perfect for indoor use. It is portable and easy to set up. The mat is thick enough, so you won't have any difficulties with areas that would not lie flat.
JEF World Of Golf Hazard Deluxe
The Hazard Deluxe provides you with an incredible experience for less than $30, being great especially for golfers who need some practice. It features a small water hazard and bunker that will help increase putting accuracy. Additionally, this practice mat comes with a ball return channel that automatically returns the ball every time you play. The mat's regulation-sized cup and non-directional turf will offer the most accurate practice surface outside of the green. Plus, its inclined ramp will develop true firmness of stroke, so you can practice your put continuously, anywhere, anytime.
Why you should use a putting Mat?
According to most golfers, golf putting mats are a great way to practice your golf skills. They can serve as a way to ease someone into golf. The best part of having it is that it allows you to play at home anytime you want. You do not have to schedule a time in advance. You just have to practice every day in order to gain the benefits of having your own mat. One of the greatest advantages of using an indoor golf mat is that you can practice more often.
Whether you have a mat at your home or office, you will be able to take a few strokes whenever you need a little break. Practice is a good way to improve your game. Plus, you will be more confident if you can make straight and smooth putts. You will enjoy this game more if you know that you can rely on your putting skills. Thirty minutes of putting practice a day are more than enough to build a consistent putting stroke.
What golfers really like about it is the fact that it allows you to practice your strokes into a realistically sized hole on a great surface that simulates green. There are various models of mats in all shapes and sizes and they all can vary dramatically in price. As such, if you are interested in purchasing a putting practice mat, choose a quality model that uses synthetic turf. Those mats are built to last for several years and they are very easy to maintain.
Shopping Advice to Take into Account
As outlined above, there are different mat available in the consumer market, so it might be quite difficult to choose the right golf tool for your needs. You do not have to buy the first mat that you see in a store. There are several things you need to take into account first as a way for you to get the best device out there.
Size
Before you choose a mat, the size must be one of your concerns. Their sizes are usually between 3 ft. to 15 ft. It is very important to decide where you want to install it because if there is enough space, you can go as far as 15 feet. It is recommended to purchase a longer and a wider golf putting mat, so you be able to practice your movements at different distances. However, if you have limited space, you can purchase a mat that ranges from 4 to 6 feet.
Features
Once you choose the size, you can think about the features that the mat should have. Nowadays, most people prefer mats that have a turf that is similar to real and natural grass in golf courses. These mats are more durable and very easy to maintain. Additionally, there are also some other features you need to consider, like the tracking features. Some mats are specially designed to help you find the right speed when a ball leaves a track that you can use to determine the force effectively.
Portable mats
If you are planning to purchase a mat for putting, you need also to consider getting portable models which are extremely practical, especially if you want to move it from a place to another. By using a portable mat, you will be able to improve your putting techniques and practice wherever you want without problems.
As putting mats come in different shapes and sizes, you have to do a thorough and informed search to establish what the better option to go for is. Luckily for you, we already did this and found that the StarPro 6ftx12ft 5-Hole is the best mat at the moment as it is long enough to mimic a real putting session. Furthermore, it even works well when put over gravel, so you can take your practice session outside when the weather is good and you want to breathe in some fresh air. Another noteworthy option is the Big Moss Augusta which measures 4 feet by 12 feet, providing a realistic putt practice session. Also, its portable design makes it convenient for those who want to practice their skills when they are on the go. However, if a budget-smart option is what you are on the lookout for, the JEF World Of Golf Hazard Deluxe is the right pick. Not only does it come at a cheap price, but it features challenging hazards that will enable you to get better at putting a lot quicker.
Frequently Asked Questions