Would you like to own a device that will make only positive changes to your whole game, especially when it comes to your swing? If so, then Epson M-Tracer golf swing analyzer is exactly what you need. The device is absolutely wonderful and it will certainly make you fall in love with it. Even if it costs $300, it is certainly worth every penny, as you will be able to play a fantastic game.
Disclaimer 2021 : sadly, the M-Tracer is discontinued by Epson. You might find it on second-hand website.
Performance
Endorsed by world-renowned golf instructor David Leadbetter, this golf swing analyzer is one of the most accurate devices in this category, available on the market at the moment. It comes with an accuracy of one-tenth of a degree, and the best thing is that it can actually maintain the accuracy throughout its lifetime. Another significant advantage that you get from the M-Tracer is that it uses an advanced technology in order to give you reliable information that will help you considerably improve your swing. With it, you can view swing comparison data. You can easily compare all your swings against your baseline, or just choose the desired swing from the library of pros. Furthermore, you can also compare swing tempo, by identifying the variations in your downswing, top of the swing, and backswing as well, against the baseline tempo and rhythm. Actually, this amazing swing analyzer will help you make remarkable changes to your game by providing instant access to the swing data via a mobile app.
Specifications Sheet
| Specs | M-Tracer |
| --- | --- |
| Dimensions | 1" x 0.2" x 2" |
| Weight | 0.53 Oz. |
| Sensor Placement | Club |
| Operating System Compatibility | iOS, Android |
| Battery Charge Time | |
| Battery Runtime | 3 Years |
| Captured Data | Club head speed, maximum speed, grip speed, estimated carry, attack angle, estimated carry, face angle |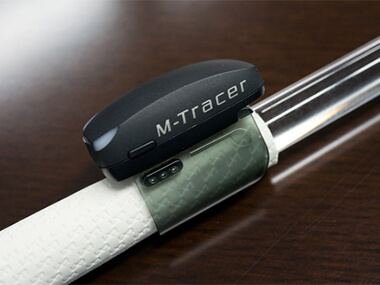 Features and data
When it comes to the features of this golf swing analyzer, we must highlight Epson's core sensing technology, which is specially designed for only highly accurate golf swing analysis. It can record data at 1000 samples per second, which is without a doubt amazing. With it, you can actually keep track of critical checkpoints due to the V-Zone view, review your swing from any angle, and you will also be provided with instant results when it comes to reviewing data after each swing. All the information will be provided through your mobile app. Also, it features a Bluetooth option, so that you can easily and securely transmit data to your mobile. The data that is actually provided to you include the clubhead speed, grip speed, maximum speed, estimated carry, face angle, club path, and attack angle. An instruction manual is available for anyone who wants to purchase this device. It is highly accurate and it will instantly provide you correct information.
Design and compatibility
This wonderful golf swing analyzer is a lightweight and compact device. It weighs only 15 grams, and this actually means that it will not be uncomfortable at all. Its dimensions are 1×0.6×2 inches, and it comes in an oval shape, which is very elegant. You will find it very easy to attach it to your golf club, and since it is portable, you can carry it with you with ease. Furthermore, it is unobtrusive and it will certainly not affect your swing. The device works very well with iOS and Android devices, and you will not encounter any sort of difficulty in this entire process. You can use the mobile app to get an instant access to your swing data. Take into account that the mobile app can store up to 300 swings, which is absolutely amazing, and the web portal can store up to 2000 swings. All your data will be uploaded to the web portal, from anywhere you have an internet connection.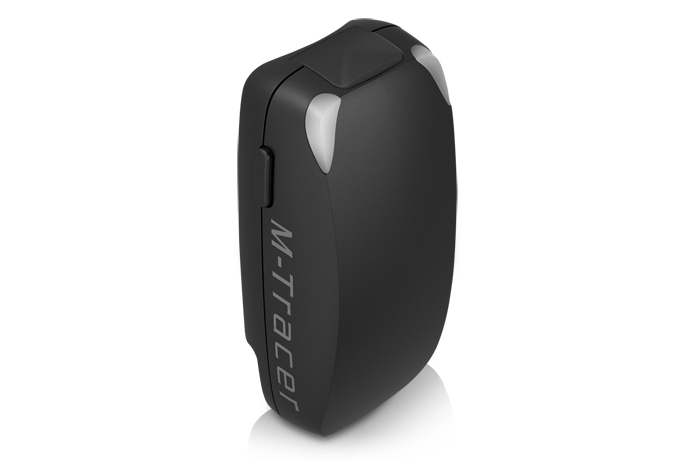 Ease of use
It is portable and easily mounted, weighing less than one pound. It is very easy to use and unobtrusive, so it does not affect your swing. You will have instant access to swing data, including visual representations of each of your swing, through a very convenient mobile app (Android or iOS). All data will quickly and easily be uploaded to the web portal, via WiFi. Some users complained about the fact that the data is a bit too difficult to interpret, and therefore, this can have a negative impact on the game, but as mentioned earlier, it is something that only fewer users mentioned. The high price is also another inconvenient which some players are not happy about. However, it has so many features, that is really worth the money.
Battery and warranty
This product comes with a rechargeable built-in battery, which is meant to last approximately 3 years, depending on operating conditions. The device features a 1-year limited warranty, so you can use it in complete peace of mind, being a great addition to your golf bag.
Status LEDs Meaning
The M-Tracer analyzer features status LEDs that have different meanings, announcing you about certain events. For you to understand these LEDs, you must know what they stand for. When the blue LED turns on for one second and then flashes every two seconds, it means that the device is turning on. If the blue LED flashes two times every two seconds, it means that the device is communicating with the app, transmitting the data that it has recorded. If the blue LED turn on and then off, it means that the device is turning off. If the red LED flashes once every 5 seconds or so, it means that the device is running out of battery. If the blue and red LEDs flash alternately, it indicates the pairing mode. When the red LED flashes every second, it means that an error has occurred. Last but not least, when the red LED turns on for 5 seconds and it turns off for less than a second, after which it repeats the same action, it means that there is a hardware error.
Final Thoughts
When we first saw the Epson M-Tracer, we were eager to see how it will yield, considering that it has been designed by a reliable manufacturer in the field. We were not disappointed at all, in fact, we were impressed with its accuracy. The high price that almost doubles the price of the majority of the swing analyzers could be considered a drawback and limit the list of users but it is a match for the performance shown on the course. It is compact and lightweight, being almost impossible to notice while playing. Still, it can record a bunch of data with an incredible accuracy and it then sends it to your smartphone so you can record it and get a clearer view of your progress. Bottom line, this swing analyzer is worth every penny and you should definitely consider it if you want to boost your golf skills.